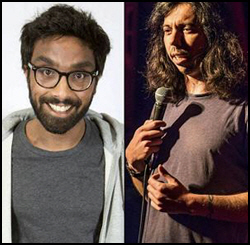 Two comedians who deliver big laughs when they perform in our '10 Comedians' shows are Matty B and Suren Jayemanne.
Tonight they are sharing some of their latest comedy gold in preparation for their 2017 Solo Comedy Shows.  Many top comedians do this trial-show format and it's an excellent way for you to experience top-shelf comedy at an unbelievably low price.
The venue is Mr Falcon's, a bar in Glebe, which is getting a great reputation for niche entertainment and a great range of drinks and food.
Tickets for shows like this usually sell out, so get your tickets early online at:
Date & Time: Sunday, 11th December, 2016 7.00 pm
Venue: Mr Falcon's 92 Glebe Point Rd, Glebe (location map below)
Tickets: $11.44 (including booking fee)